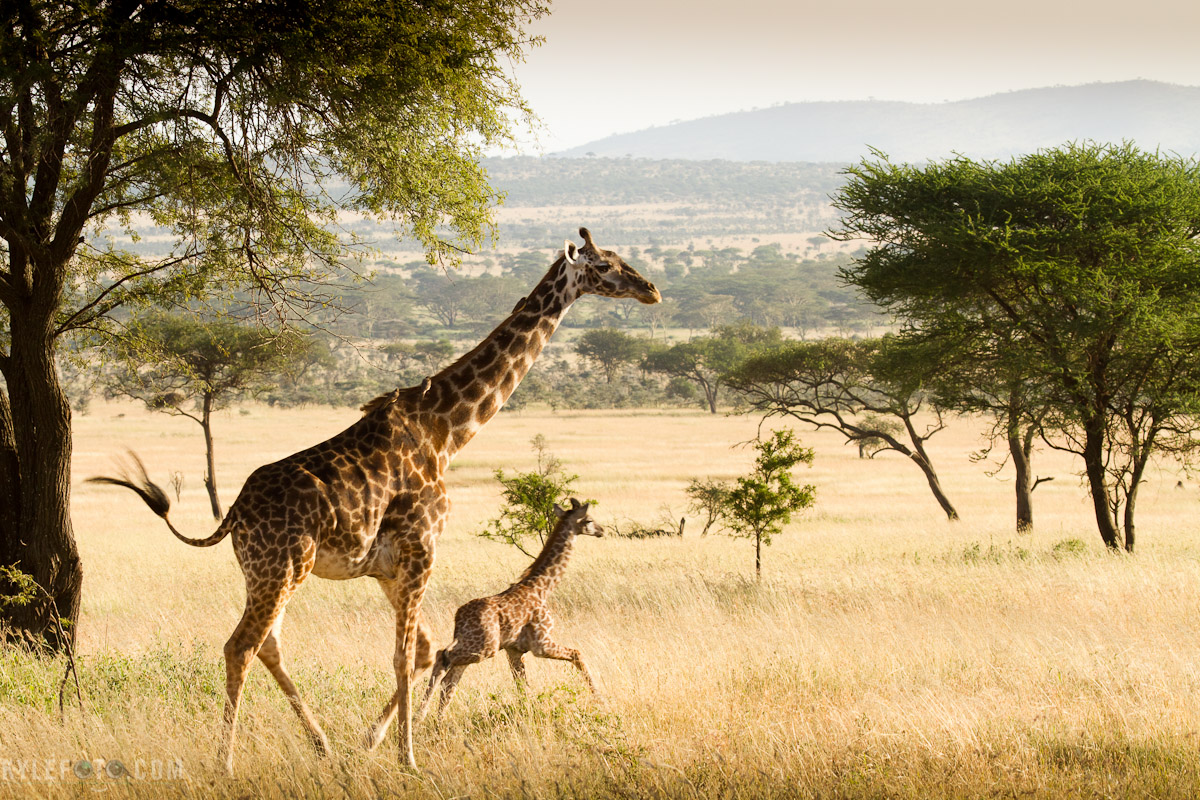 Serengeti, Tanzania, Africa Looking across the Serengeti we sat quietly looking at a group of a dozen giraffes, our guide indicated that these were females who usually group together for safety.
Suddenly a large giraffe bursts from the trees behind us and begins to make her way towards the herd. Another much smaller gangly figure awkwardly stumbles out into the open; for a moment my subconscious thought it made more sense to tell my brain that my tripod had sprung to life and jumped out of the back of the safari vehicle and ran across the Serengeti. Then I realized this energetic stick figure was a baby giraffe running around her mother and all over the grass like there was a party going on in her head that only she could hear. I'm used to seeing these large animals move like they are a slow motion movie, to see one of these things dart around, buck and jump so quickly was both startling and delightful.
Final Image, click to see larger:
Photographic Details: I wanted to capture a bit of motion with these animals moving faster than usual, I slowed my shutter speed down to 1/160th of a second in hopes of getting a little motion blur on their legs and tails without getting too much blur on the bodies. I actually have some much more artistic versions of these images that I will be sharing in the coming weeks but I liked the energy of this one as it really shows how much spunk the baby has, which made us all giggle in the safari vehicle as we watched this unfold in front of us.
This also happened so fast that I forgot to lower my aperture to let more light in, I ended up underexposing. However with the magic of shooting in RAW mode I have a little wiggle room, I was able to correct my mistake and get the detail back by changing the exposure after the fact in Lightroom, we all make mistakes but with the right settings we can compensate for them, See the original image to compare!
Canon EOS 7D: 1/160s f/9.0 ISO100 150mm (35mm eq:240mm)
Original Image before exposure adjustment
[button size="large" link="http://kylefoto.smugmug.com/Animals/Africa/19644918_hpCKDK#!i=1724953165&k=cHqJggp" linkTarget="_blank" color="blue"]Order Print through Smugmug[/button]