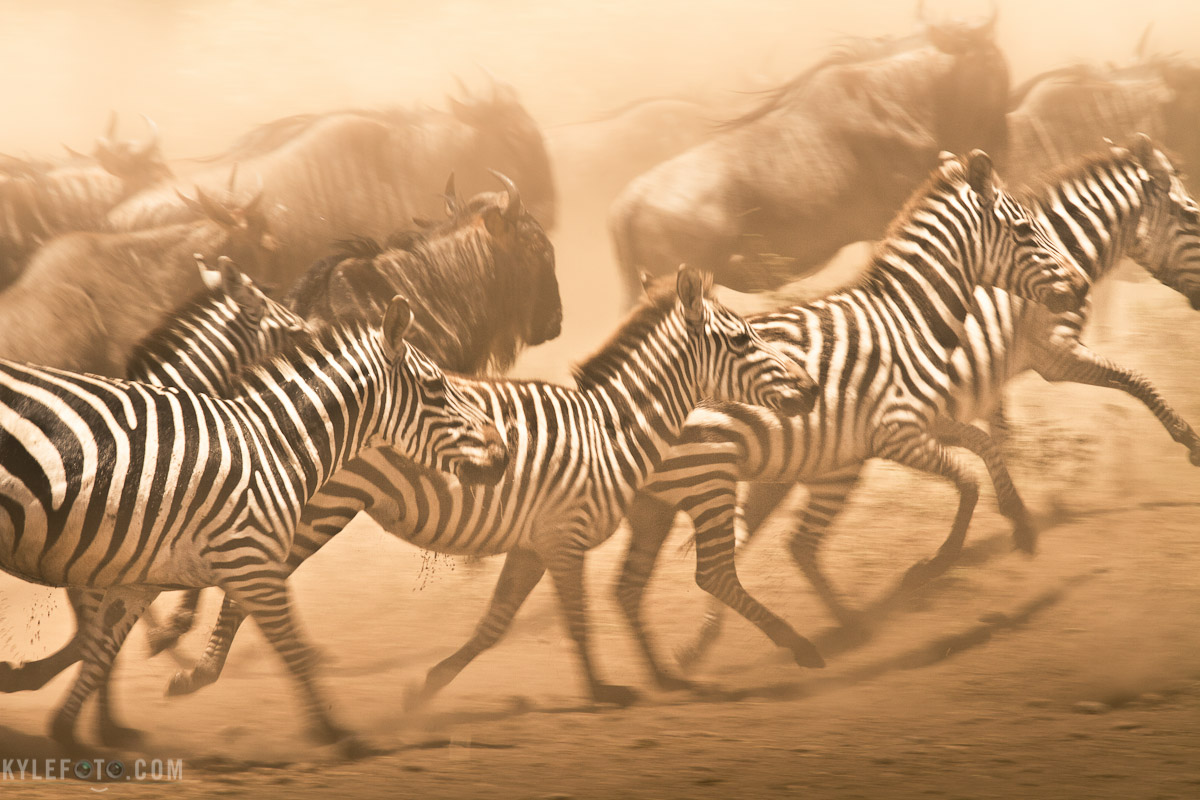 Tanzania, Africa Being on safari is always full of surprises. While the keen photographers and enthusiasts expect I always know what's going to happen, it all comes down to being as prepared as possible for when the action happens. While being surrounded by a herd of zebra and wildebeest, we were stationed where there was as much action as possible: by the river. These animals would stop to get some much needed water, but they are always nervous as there is an ancient threat that lurks in these waters, the crocodile.
A crocodile was lurking in the water, we wanted to see some action, but at the same time, we didn't. We were wondering why the crocodile wasn't paying any attention to the pedantic animals looking for refreshment at the shore, when the crocodile went to a log pulled out a long dead zebra under it and began to snack. Oooh, well he was full because he already had food in his pantry! It's likely this croc won't have to eat for months, given that they are cold blooded and thus don't use food energy to maintain their body temperature, a very efficient way of living.
Nevertheless the zebra would get their fill of water until paranoia set in and one would bolt away from the shore in fear, setting off a chain reaction. The once crowded shore would be instantly vacated as all the zebra and wildebeest fled for their lives. After a few seconds or so one thirsty animal would slowly make it's way to the shore and drink as more animals came in, and the cycle of spazzing at the shore would begin again. This gave us many opportunities to get these running action shots.
Photographic details: I intentionally used settings that get a lot of motion blur, normally something that people find undesirable. But it's this sense of motion that makes the viewer feel what it's like to be there. 1/100th of a second was guaranteed to get a blurry photo, as I followed the motion of these beasts as smoothly as I could. The incredible amount of dust in the air provided or a fantastic backdrop and a beautiful red cast on the image. CANON 7D 1/100s f/16.0 ISO100 330mm
If you like this, do me a favour and share!
More on my photo safaris: http://www.kylefoto.com/photographic-african-safaris/
[button size="large" link="http://kylefoto.smugmug.com/Animals/Africa/19644918_hpCKDK#1584126506_9CdsHzj" linkTarget="_blank" color="blue"]Order Print through Smugmug[/button]